OPIOIDS AND SENIORS:
Opioids can cause many problems for seniors, from severe reactions to theft by friends and loved ones. Learn how to stay on top of these issues; download TRIAD's Opioids and Safety for the Aging Population.
FILE OF LIFE: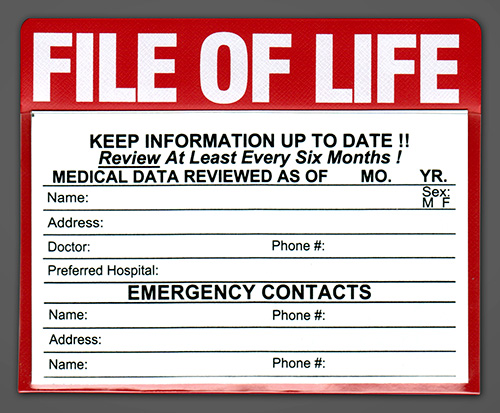 The "File of Life" is a miniature medical history that is kept in a red plastic sleeve with a magnetic strip.   Once the history card is filled out, it is placed back in the sleeve, then placed on the outside of the refrigerator in a visible place.
The "File of Life" details a person´s name, emergency medical contacts and insurance policy information.   It details current health problems, current medications and dosages. There is space to list allergies, recent surgeries, your doctor´s name and phone number, your health care proxy information and your religious affiliation.
In need of a File of Life? Contact Healthy Generations Area Agency on Aging at 540-371-3375.
END OF LIFE SERIES:
During this three-week series you'll hear a local Funeral Director discuss making funeral and cemetery arrangements, Social Security benefits and insurance options. You'll learn from the Circuit Court how to prevent legal issues within your estate, hear of personal experiences and go through the important aspects of wills, trusts and legal protection. Also included is "Let's Talk" about the Conversation Project with Mary Washington Healthcare.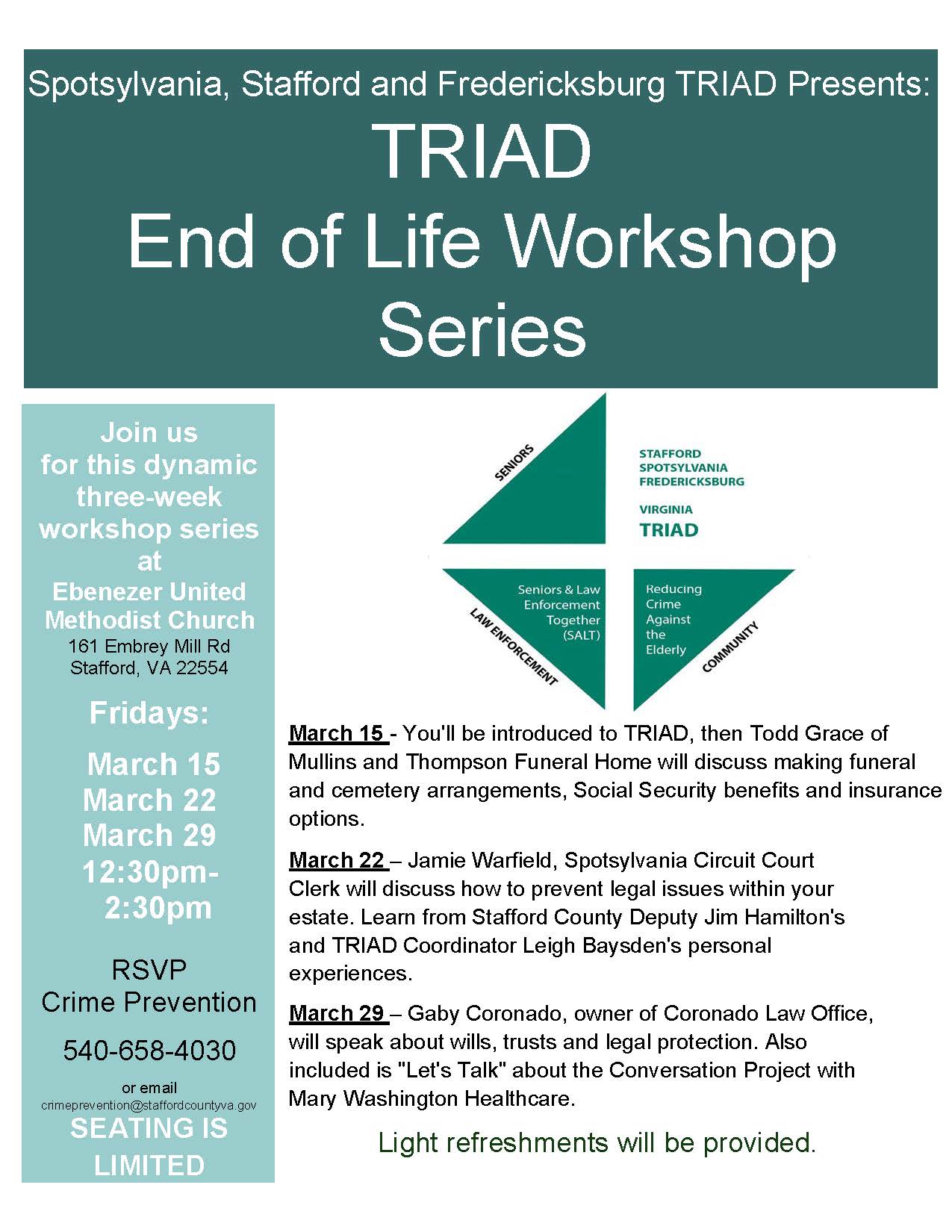 This series has been such a success, TRIAD is currently working on putting it in an on-line format.
Check back for more information.
TRIAD PROGRAMS AND PRESENTATIONS:
TRIAD is available to provide presentations to senior groups and communities. Below is a list of programs which can be tailored to suit your wishes.
End of Life Decisions, Frauds and Scams, Holiday Safety, Home Safety, Identity Theft,
Internet Safety, Medicare Fraud, Opioids, Personal Safety, Travel Safety
If you have recommendations or requests for future topics, please contact TRIAD
OUTSTANDING 1ST RESPONDER AWARD:
In conjunction with Partners in Aging, the Outstanding 1st Responder Award is given annually to someone who has gone above and beyond their job description in providing public safety to the area's senior community. Thank you to all 1st responders and congratulations to those who have been recognized.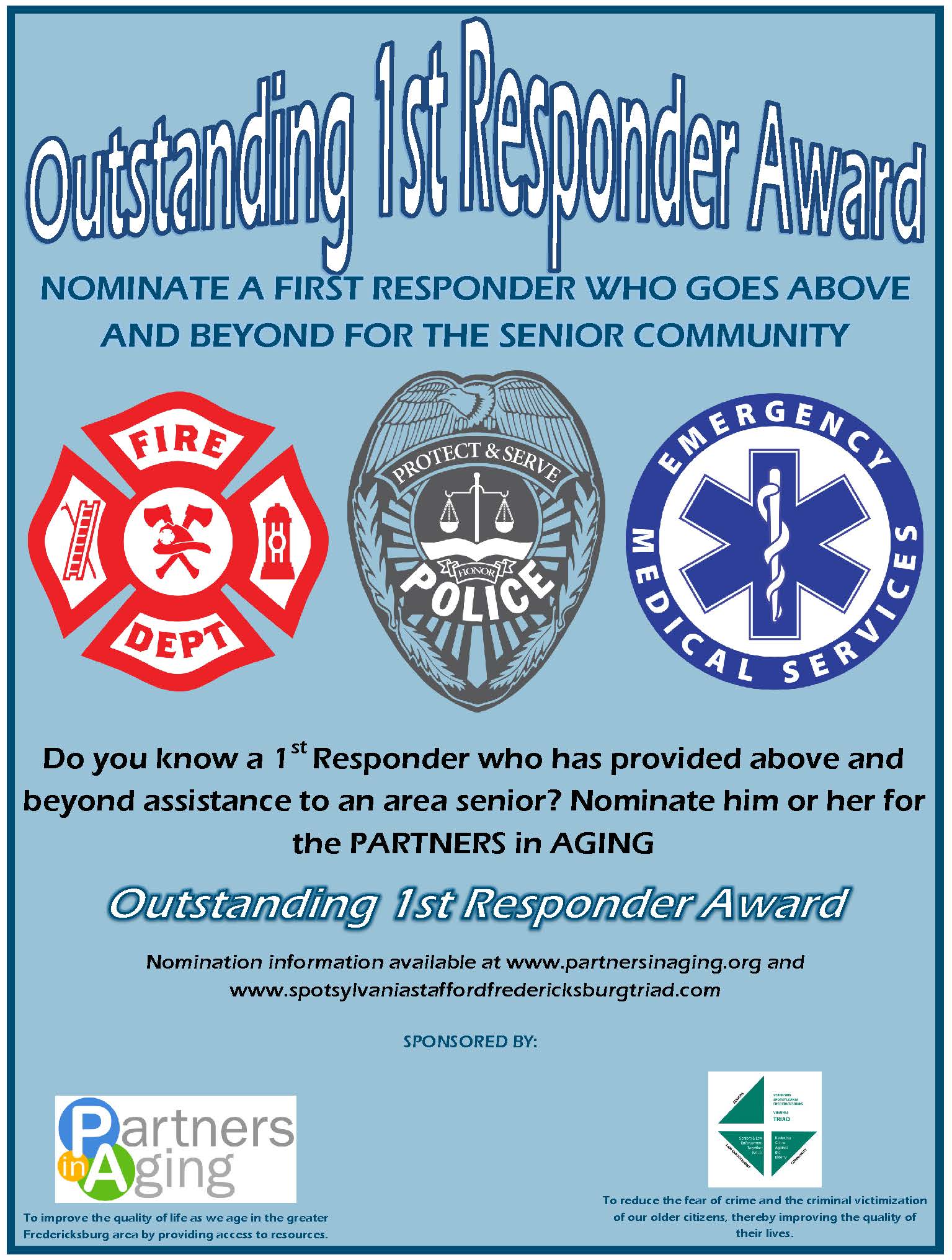 Do you know someone who should be nominated for the Outstanding 1st Responder Award. Use this form to make your nomination.
Reducing the fear of crime and the criminal victimization of our older citizens, thereby improving the quality of their lives.